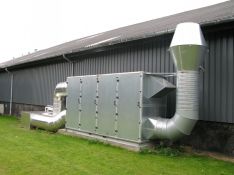 Shooting range ventilation
Having to comply with the new Danish rules on exposure levels (50 microgram of lead per m3 of air), many shooting associations must replace their current ventilation system. As we all know, nitrous gasses, carbon monoxides, lead and other types of dust is liberated during shooting.
We have worked with several shooting associations on installing ventilation systems that meet the requirements put forward by De Danske Skytteforeninger (the Danish shooting associations) on correct injection and aspiration of air for the purpose of keeping the level of lead dust below the maximum exposure level.